4.1 Animated objects

All the objects inside the scene are subjects of animation. Some of the objects can be present in the scene during the whole visualization some objects can dynamically appear only for a given time period. Therefore every single object contains a time interval in which is rendered and in which its parameters are modified. The following objects were implemented in the program:
background

textured face

fountain (a particle system)

Background
Background object allows the user to change continuously the background color. The speed of the change from one color to other depends on the specified time interval. The background object is suitable for expressing lightning (short time interval), dawn or dusk.
Textured face
Currently just rectangular area with RGBA texture has been implemented. The object is included into the scene by adjusting its local origin situated in the middle of the plane. The alpha channel allows preparing nice effects when the several faces overlap.
Fountain
The name of this object is based on the model that inspired us. It is a particle system with the following parameters (see also Fig.2):
middle value of the particles velocity vector
particle source position
gravitation vector
bounding box for each individual particle
parameters for color distribution of the particle system
The user can specify all of these. Each particle of the system has its own subset of parameters derived from the global one. Individual particle parameters are:
current velocity vector
current position
(static) color
All of the particles are emitted from the same initial source position but with different initial velocity vector. The Gaussian distribution controls initial velocity vector of particles. The middle value of this distribution is the middle value of the particle system velocity vector. This value is influenced by the music parameters. The particle position is recomputed in dependence on the current velocity vector. This vector is modified by the gravitation. The color of a particle is computed from the parameters of Gaussian distribution of the whole particle system color.
The fountain is able to express the dynamics and the mood of the music. A dynamics is expressed by the motion of particles, while the mood is expressed by their colors. Several different object can be modeled by the fountain, e.g. fountains, waterfalls, falling leaves, fire etc.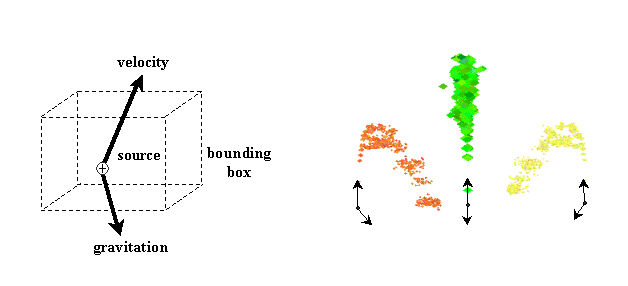 Figure 2:
Left - Wire model of the fountain object
Right - Fountain objects with different parameters