Next:
Bibliography
Up:
The Simulation of Art
Previous:
Cartoon-Style renderings

Conclusion
The intuitive categorization of computer-generated artwork used in this paper was based on the type of artwork (pen-and-ink illustration, painterly rendering or cartoon-style). A more general categorization would be dependent on the way in which the paintings are produced (refer to Figure
): At low level, there are approaches that try to physically simulate the distribution of pigments over a canvas (physical layer). The next layer, which I have called the tool layer, deals with the properties of drawing tools and colors. However, it does not care about the process of drawing itself. This is the subject of the next layer, called the painting layer. The mental layer, which forms the highest level in this model, looks at the way in which artists think when painting.
At the highest level (mental layer), we have seen an approach that deals with the problem of composition (Section
, Cartoon-Style Rendering). In the painting layer, traditional painting style approaches for pen-and-ink were presented (see Section
), starting with the Comprehensible rendering of 3D-Shapes and Computer-Generated Pen-and-Ink Illustrations. With the use of fast silhouette determination and Tonal Art Maps, it is now possible to render pen-and-ink-style drawings in real-time, for example in games. Other types of painting styles mentioned in this report include the rendering of Chinese Portrait and Landscape Paintings, Sumi-e (Section
) and Cartoon-Style Images (Section
). Additionally, an approach that simulates the artistic learning of painting style through repetition (Image Analogies, Section
) was presented. For the tool layer, we have seen a simulation of painting with various brush strokes and sizes (Section
) as well as a discussion on the influence of line direction (Section
) for hatched illustrations. Colors are often simulated in the physical layer, with watercolor (Section
) and graphite pencils (Section
) being examples. Furthermore, the mentioned three-dimensional painting techniques (Section
) can also be seen as physical approaches, because the distribution of particles on a surface is computed.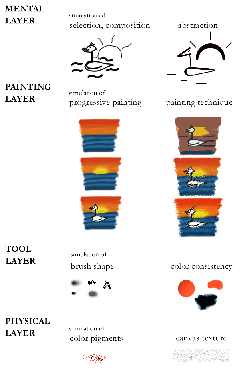 ---

Next: Bibliography Up: The Simulation of Art Previous: Cartoon-Style renderings Gabriel Wurzer 2002-03-21