| | |
| --- | --- |
| | CESCG 2011 - Venue |

May 2nd - 4th, 2011, in Viničné, Slovakia

Galbov mlyn
Hotel Galbov mlyn is an old mill in Viničné. It was rebuilt to a small sport and wellness resort perfectly suitable for small seminars and conferences. During spare time one may use various sports facilities (tennis, swimming pool, etc.) and take part at wellness cures in sauna and whirlpool. A wine tavern offers the best of wines produced in the traditional vineyards region of Little Carpathians.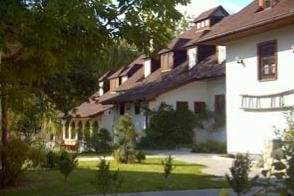 Map
Viničné is located 20 km away from Bratislava, on the half way to Budmerice. The best access by car is from the D1 highway. Please note you need a weekly highway vignette that will cost you 7€. If you plan to arrive by pubic transport, the best option is to get to Bratislava and then to take a bus or train to Pezinok. In Pezinok you can wait for another bus or you can call a taxi for ~10 € (option 1, option 2). Be sure to check your schedule for buses and trains.
View Larger Map
Village
In the center of the village, you should be able to locate the typical combination of services - church, pub, bus stop and cemetery - at the central square. The way to Galbov mlyn is well marked. You need to get to the football field and then continue out of the village towards a group of trees. Along a small lake you get to the venue surrounded by fields.